Nitrous Sedation
ABSOLUTE NOVELTY
Due to the development of the technology in this domain, a visit to the dentist is no longer a stressful event either for children or for the parents. Patients are happy to come to the DentalMed dental clinic because they know that nothing in the dental treatment will cause them the slightest physical pain.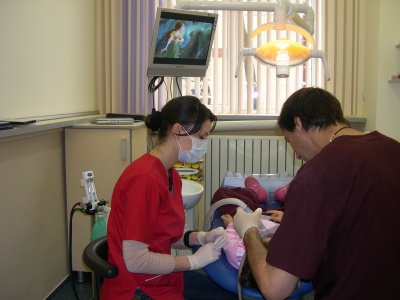 The DentalMed clinic introduces in Romania the latest technology which helps fight patient's fear and pain: inhalation sedation with nitrous oxide.
The revolutionary technique of inhalation sedation with nitrous oxide presupposes going through the following stages:
1. calming the patient through the inhalation of a mixture of nitrous oxide and oxygen (this gas is used in dentistry operations performed in the United States and in Western Europe) 2. performing the stomatological treatment without any operating pain 3. disappearance of any physical discomfort caused by classic, local anesthesia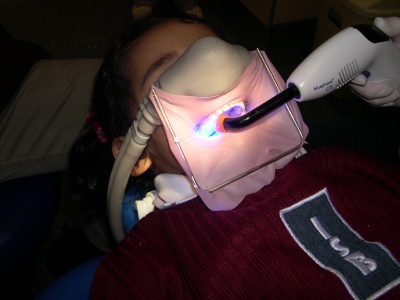 Of course, children are the happiest with the new treatment system; they aren't afraid of going to the dental clinic anymore because they no longer experience any of the discomforts of classic dental interventions.
The novelty of this treatment consist of the use of the nitrous oxide, a gas which, when combined with oxygen, has a calming effect on the patient who will therefore feel no fear at all. When the treatment is over, the doctor discontinues the supply of nitrous oxide and the patient will only inhale oxygen for a few minutes so as to eliminate the effects of the previously inhaled substance from the body.
At our clinic, all interventions requiring special sedation methods are permanently monitored by an anesthetic specialist.
DentalMed uses the highest performance nitrous oxide administration device, manufactured by the American company PORTER and certified by European Dental Association (EDA) and by American Dental Association (ADA), the most prestigious stomatological associations in the world.
The advantages of the new system are beneficial both for the patient and for the doctor: the effect of inhalation sedation is very rapid- in just a few minutes the patient will feel a pleasant sensation of relaxation and euphoria instead of the well- known stress.
Sedation is performed under medical control and it depends on the length of the intervention. Different from other sedation methods, the use of nitrous oxide causes no side effects in the patient either during or after the treatment. Patients' physical state is not affected in any way, which means that they will be fit to continue their daily activity immediately after the end of the treatment session.
I would like to make an appointment